Thursday, July 23, 2009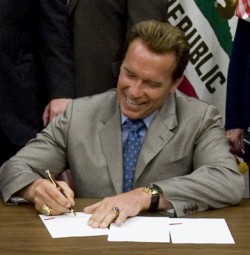 If the medium is the message, then what's the message when politicians use 140-character tweets to talk about their state's dire economic circumstances or ethics charges?
Yesterday, embattled Govs. Sarah Palin and Arnold Schwarzenegger addressed career-changing (or ending) issues facing them...on Twitter. Palin was responding to a new report on
ethics charges
against her,
tweeting
:
Re inaccurate story floating re:ethics violation/Legal Defense Fund;matter is still pending;new info was just requested even;no final report.
Palin's Twitter feed currently has more than 100,000 followers, including
Gawker.com
, which follows her every tweet, calling the soon-to-be former governor's feed "the best thing to ever happen on the internet." And not in a nice way.
No doubt even the most talented wordsmith must find it difficult to be eloquent and informative in 140 characters or less, but for politicians using a social-media tool to confront serious issues, they also run the risk of diminishing the importance of their message.
After negotiating a
deal
that will close the gap on California's jaw-dropping $26 billion deficit, Schwarzenegger posted a puzzling
video message
on his Twitter page. In it, the governor is wielding a huge knife, talking about selling state cars signed by the "celebrity governor." Even the governor's press secretary couldn't explain the knife. From
KABC
:
"I don't know why he is holding a knife. The message is in what he is saying, not what he is holding in his hand."
L.A. residents were not impressed with Schwarzenegger's message, or the medium: